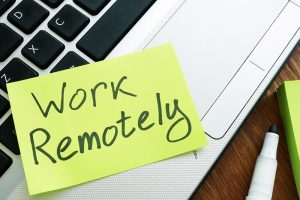 While the world is still trying to find some semblance of normalcy again, your business may still be trying to navigate telecommuting. If you've never let employees work remotely before the coronavirus pandemic, you're likely worried about the state of your business and about employee productivity. But we're here to tell you that it's not as bad as it seems—in fact, a remote workforce could be better for your business!
As an IT company, Amaxx is not unfamiliar with telecommuting or how to work remotely—we do it all the time for clients! Even before COVID-19, we were helping companies improve their network security with remote workers and helping to increase employee productivity. But if you feel hesitant about remote work or have worries, here are a few of our favorite tips to make the transition go smoothly.
Schedule A Free Work From Home Consultation
Engage Your Team to Stay Focused
One of the most challenging things to do when part of your team (or all of it) is working remotely, is keeping everyone engaged. Some employees may be too focused on their work, or not focused at all—either way, there may be a disconnect with the level of productivity.
According to a few studies, "two-thirds of managers report that employees who work from home increase their overall productivity." But, the key to that is making sure your employees still feel connected to the company. Try doing some online group or team-building activities via video chat to stay engaged with everyone. Engaged employees are likely to be happier, which in turn will make them more productive and willing to get work done.
Provide Support to Increase Employee Productivity
Anyone familiar with working remotely will tell you that balance and self-care are two of the most important aspects of a working-from-home lifestyle. Especially in light of the COVID-19 pandemic where emotions may be fluctuating more than usual, it's crucial you set the tone for your employees to stay healthy mentally and physically.
Encourage your team to still take time off from work when they need it, and to be strict about what hours they're working. One of the dangers of remote work is feeling too "burnt out" because there's no set structure of when you should or should not be working. Your typical 8-hour day can quickly turn into 10+ hours if you're not careful and mindful of shutting off your work at a set time.
Also, make sure you let your employees know that you always have an open door policy if they need to discuss their current remote situation. Working remotely may not be for everybody, but just knowing there is someone to talk to about it can help increase morale and employee productivity.
Keep Technology Updated to Keep Frustrations Low
One of the most frustrating parts of working from home is when your technology fails. Whether that means your remote connection fails, or you don't have the proper setup to make work from home run efficiently, you'll want to eliminate those troubles as much as possible. If you want your team to succeed, set them up for success.
At Amaxx, we've found the best way to do this is to make sure you're working with an experienced managed IT company like us. Why? Because you're getting more than just IT support with us! Here are just a few benefits of what you get when you work with us:
Our flat-rate costs cover any outages 24/7/365—you won't have to pay extra if your server fails.
You'll always have the most up-to-date software and tools to work with.
Security risks will be significantly lower since our team is always staying on top of new developments.
We offer cybersecurity awareness training so that even if they're working remotely, employees can help your company stay safe.
So if you're ready to help increase employee productivity and get your team set up to properly work from home, let us know. We're happy to help and be your go-to source for any IT needs!