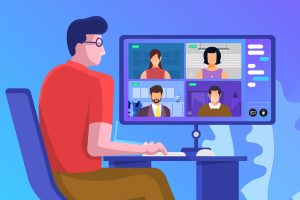 It's no secret that 2020 has been a weird year for all of us. None of us could have predicted how different the world was going to be following the coronavirus pandemic, especially from a small-business perspective. If you're like us here at Amaxx, you've made adjustments and reevaluated your business goals to the best of your abilities. But, what has that meant for IT support as a whole?
With the effects of COVID-19 and quarantine still in full swing, IT support has started to see quite a few changes take place. As more businesses and companies make shifts to work remotely and navigate this new work environment, there's a lot of room for significant changes that we're already starting to see.
Check the Health of Your Network Security
As we move forward and try to get back some semblance of normalcy, Amaxx has a few predictions on what the future may hold for IT support.
The Good, the Bad, and the Ugly
When quarantine got underway here in Ohio, we all felt the fear for our businesses, families, and the general state of the world. With the economy crashing, people losing jobs, and companies going out of business, life was a bit chaotic for all of us for quite a few months. Despite all of that, though, IT support has seen some positive—and, of course, negative effects. Here are some of the most significant changes we've seen happen over the last few months.
Remote Work and Tech Support is Possible
As an IT support company, we already know that remote work and tech support are possible, but quarantine has helped other businesses realize this as well. Pre-quarantine, we often had to go on-site to help clients fix very simple issues. While we still offer that kind of support and don't mind doing it, being able to fix problems remotely lets us help you much faster!
Other businesses are also starting to realize the benefits that come with remote work and cloud computing for their business. Where possible, we've seen many companies quickly shift to a remote work environment to avoid any major hiccups in their workflow. It may feel foreign at first, but it's been helpful to keep business going, keep people safe, and retain good employee morale since they know their jobs are more secure.
Less Protection for Home Systems
Unfortunately, there are a few downsides to having so many people working from home. What's become very obvious to us during quarantine, is that people are no longer protected by their corporate networks when they work from home. For example, the router your employee bought from Walmart isn't going to protect them from cybersecurity threats as well as the one that's in place at a corporate office.
We've also noticed that with more people working remotely, IT support has had take a more proactive role in educating clients about using proper networks for the safety of their company. An employee that's remotely connected via a laptop, cell phone, and maybe even a tablet, now has several assets that could become an access risk for your business. Also, if they're using WiFi hotspots or unsecured networks, that brings up even more potential security risks.
Realization that Bandwidth Matters
Another downside that companies are seeing with so many remote workers is the need for more bandwidth in their networks. We've had a lot of people come to us asking why their remote connections are so slow or why their employees are having connection issues. The answer? They need more bandwidth.
On the plus side, because of these issues, people are realizing that the cheaper bandwidth plan options from their internet service provider are not always the best. And with a little investment in IT support, your business can continue to run smoothly and grow, even while working remotely.
Openness to Education
Educating employees on cybersecurity has always been a priority for IT support companies, but now more than ever, we're seeing more businesses be open to investing in it. At Amaxx, we're always on top of the latest news and trends in cybersecurity, but we want our clients to be as well.
Unfortunately, even though the fear of COVID-19 seems to be dying down, that doesn't mean the people looking to steal your info are going to stop attempting to do just that.
Massive Increase in Phishing Attempts
More than anything, we've seen a considerable uptick in phishing attempts related to COVID-19 recently. These phishing emails are targeting people with promises of government credit, employment, and more, all to get at their secure info. We've had to make clients aware of these issues so that they can continue educating their employees against further attacks.
The Rise of Interest in VPNs
Have you heard the acronym "VPN" or "virtual private network" for the very first time recently? This networking technology can make remote connections safer, but it can also cause many headaches for remote employees and their employers.
One of the issues we've noticed popping up is when corporations use VPNs to connect remotely, but the VPN number is the same as an employee's IP address, it causes a big headache for the end-user—and IT managed service providers like us. And sometimes, if an employee has something wrong with their home network and not the corporate system they're connected to, it's not something that business IT support providers can always help with.
As an IT support company, we also can't control what a particular device is doing on a home network. If just one employee gets malware on their computer and logs into a VPN, that causes a breach point for potential ransomware. Businesses may need to purchase separate company laptops and WiFi access for their employees to help ensure the safety of their data. This is only one potential solution, but we're happy to work with you to devise all the ways you can keep your data safer in the more remote work-friendly future.
How Amaxx Plans to Help
As you can see, there are a lot of moving pieces in the world of IT support right now, but Amaxx is working diligently to stay on top of the latest news and updates. Our goal is to help companies transition to remote work if need be, or to come up with the solution that works best for your company.
Even though the world is in a weird place right now, we want to help alleviate as much IT support stress that you or your business could have. Reach out to us today and let us help you.