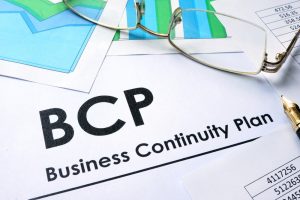 The word "disaster" can span a wide range of scenarios depending on your business. Disasters can be from natural causes, like a hurricane or flood. More commonly, disasters can also be of the cyber variety. And, as we all learned fairly recently, disasters can even mean dealing with global pandemics.
The main question is, when disaster strikes, will your business be prepared to handle the fallout?
As one of the fastest-growing security threats in the United States, cybercrime is a frighteningly commonplace disaster that businesses face today. Since the COVID-19 pandemic, the FBI has reported a 300% increase in cybersecurity complaints, which means cybercrime continues to be on the rise. Here at Amaxx, we know how important it is to keep your data safe and secure at all times, which is why we want to talk about implanting a business continuity plan into your disaster preparedness toolkit.
What is a Business Continuity Plan?
As a business owner, you may already know what business continuity planning is, but if you're a newer or smaller business, you may be unfamiliar.
In short, a business continuity plan (or BCP), is a method or process that you put in place to help react to and recover from potential disasters to your business.
So, for example, if you run an accounting business, and all of your records are kept on one server, do you have a plan in place if that server crashes? If not, you may lose hours or even days of work, which will cost you more money in the long run than if you had a BCP strategy in place. Even if the disaster isn't tech-related, a fire or flood could also permanently damage your business info beyond the point of recovery.
How Having a Proactive MSP Will Help Your BCP Strategy
When you have a business that relies heavily on keeping your software up and running, you want to make sure you have a disaster and recovery plan in place for any outages or downtime. A managed service provider like Amaxx can help you keep your data safe.
Here are a few examples of what services you should look for in a qualified managed IT provider, and what Amaxx can provide for your business:
Unsure Where to Start With a Continuity Plan?
Let us help! As we've already mentioned, cybersecurity is one of the top priorities you should invest in when it comes to protecting your business. If you've begun the process of creating a detailed business continuity plan for your entire business, Amaxx is ready to consult about disaster planning for all or your technology assets.
Contact us online if you have any questions about cybersecurity, protecting your business, or if you want to learn more about our services.